There are some big changes coming from Microsoft. Over the next few months, we will see the technology platform provider not only make changes to its CSP (Cloud Solutions Provider) license structure but also to its pricing.
If you are a customer with Microsoft licensing, it is vital that you are aware of these changes, and how they will impact the way you access, manage and purchase your licensing products. You might even find that your monthly license price increases by 20 per cent if you don't act now.
So, what changes are Microsoft implementing?
Microsoft Licensing
Microsoft has retired its Open Licensing programme, replacing it with a new CSP (Cloud Solutions Provider) programme – New Commerce Experience (NCE) – for purchasing Microsoft software and cloud services.
This change will impact the way businesses purchase Microsoft 365 licenses, with Microsoft's intention to reduce complexity, whilst introducing additional features over the course of the year. From March, all new and renewing subscriptions will now be purchased through NCE.
Price increases
From 1 March 2022, Microsoft will also be increasing its licensing products by 20 per cent for those wishing to stay on a monthly model. This is a change by Microsoft, and therefore is something out of any reseller's control. However, by now, your Microsoft reseller should have contacted you to inform you of how this price increase could impact your organisation and if you can benefit from a price reduction.
Can Digital Space help me navigate these changes?
We understand that these changes might come as a shock to you. But, as a leading Microsoft specialist and Microsoft Gold partner, with five gold and four silver competencies, we will do all we can to help.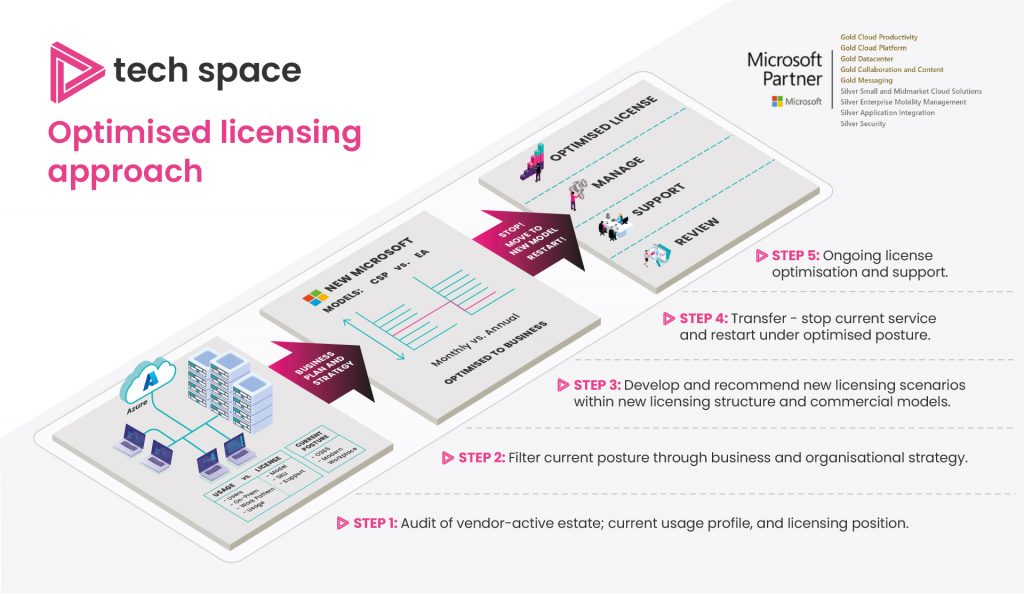 We are working with organisations to help them leverage a minimum five per cent reduction on their current Microsoft contracts when they renew on the NCE platform before 31 March. You will still be able to pay your reduced bill on a monthly basis just without the 20% price increase.
These changes represent the perfect time to audit your estate, and make sure you're not overpaying for the licenses you're currently using. We can combine this with a discussion around when's best to move over to the new offering, and also make sure that the move is as seamless as possible.
If you wish to find out more about what Microsoft's license changes could mean for you, then we have pulled together a handy FAQ guide here. Alternatively, if you wish to speak to one of our Microsoft specialists, please email techspace@digitalspace.co.uk.